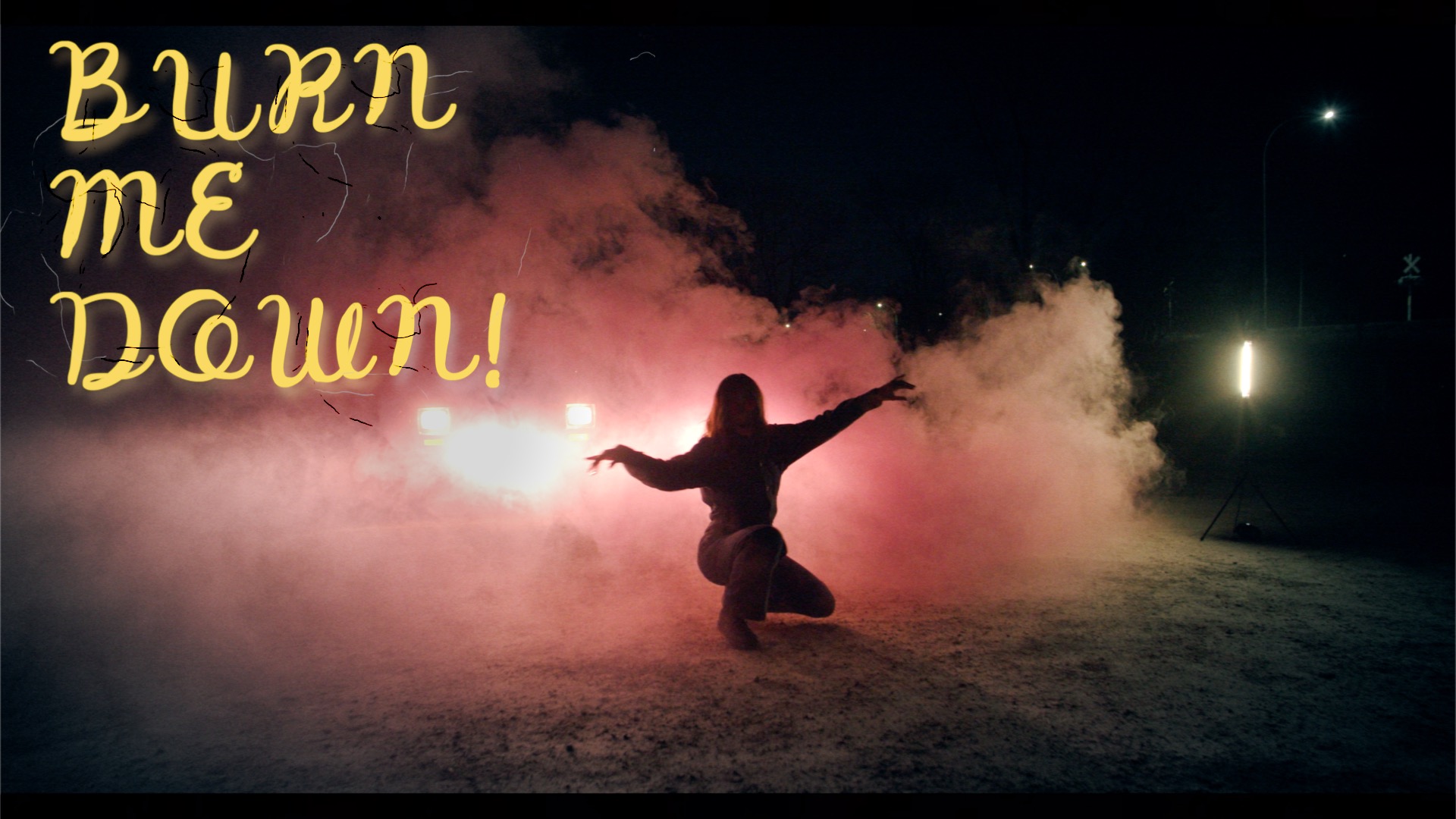 Burn Me Down (released 15 October, 2021)
Watch the video here.
Listen on Spotify here.

Feedback:
An "outstanding dance hit… beautiful"
–Music Crowns
"Perfect… listen at max volume"
–Indie Criollo 
Bluebloods has "captured my heart"
–York Calling
Description:
A factory worker lights up in dance amid rust, junk, Canadian geese, and prairie pinks. Bluebloods hopes our little song and dance makes you light up too.
The song features singer Courtney Fox, Sam Little (keyboard solo), João Carvalho (mastering), Conrad Sweatman (writer, producer, guitar), and Gabriela Ocejo (additional singing) — whose Porteño shout-out also kicks off our tune. The Burn Me Down video features dancer Madison Dueck, Dylan Baillie (cinematographer), Conrad Sweatman (co-producer, director, editor), and Sally Sweatman (co-producer, assistant director).
Bluebloods, blue-collars.
While set story-wise in the Canadian Rust Belt, the Burn Me Down music video was shot on location in Winnipeg near the banks of the Assiniboine River, a tributary of the Red River that runs through Saskatchewan and Manitoba and eventually into Lake Winnipeg. Paper-dominant poppers were used as a practical effect in this video, after which the site was cleaned and returned to the state as found. It's customary for Bluebloods' producers to make a personal donation towards a cause related to our work's themes. With the Assiniboine River featured as backdrop to this video, we made a financial contribution to the Lake Winnipeg Foundation.
Burn Me Down's filming took place on ancestral lands, Treaty 1 territory, traditional territory of the Anishinaabeg, Cree, Oji-Cree, Dakota, and Dene Peoples, and on the homeland of the Métis Nation. This project is funded in part by FACTOR, the Government of Canada and Canada's private radio broadcasters. Ce projet est financé en partie par FACTOR, le gouvernement du Canada et les radiodiffuseurs privés du Canada. This project is also funded through generous support of the Winnipeg Arts Council with funding from the City of Winnipeg.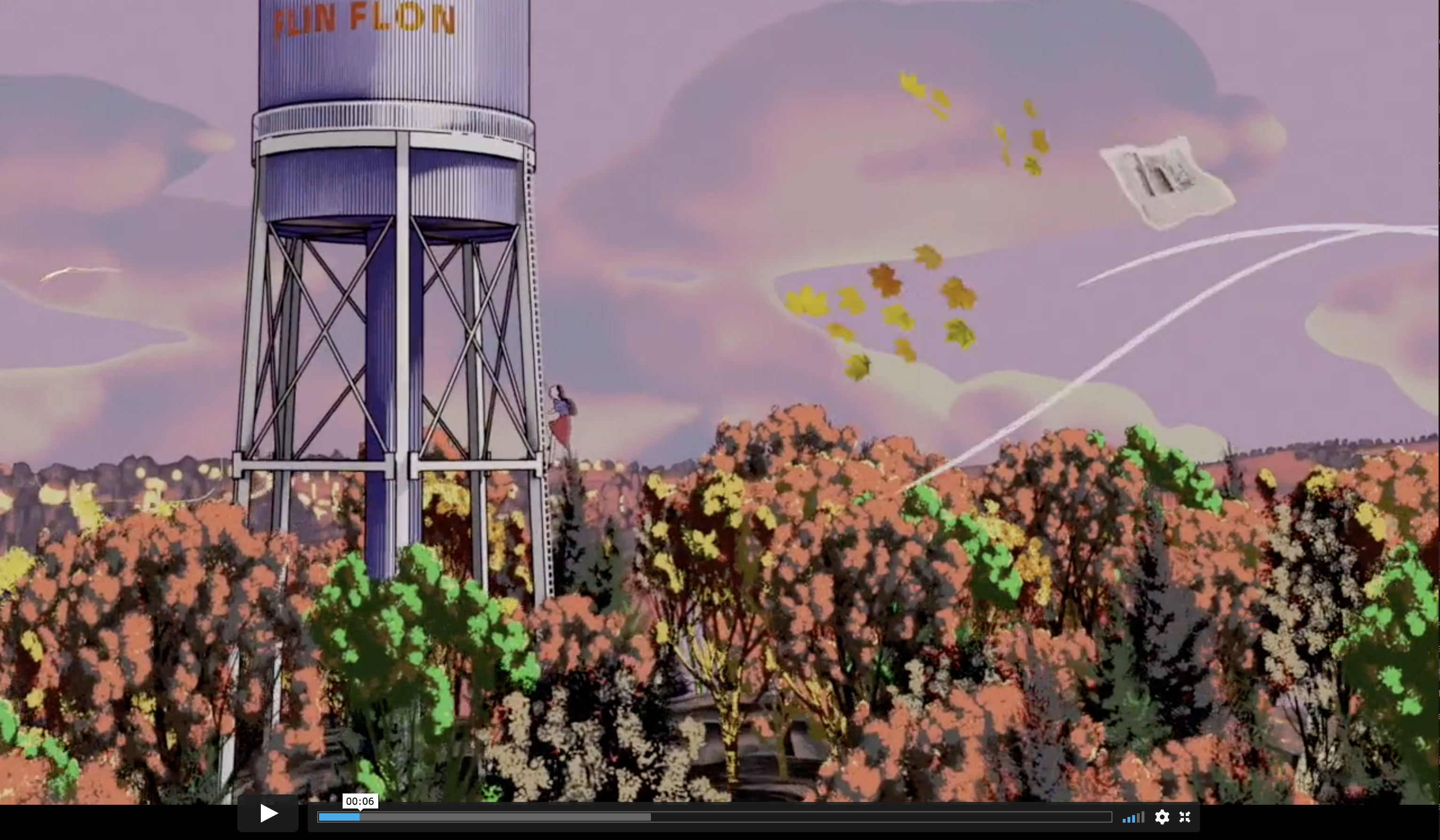 Postcard from a Quarantined Miner in Flin Flon (released 12 February, 2021)
Watch the video here.
Listen on Spotify here. 
Feedback on this music video:
"Exquisite… almost impossible to forget"
–Indie Criollo
"A slow burn that only has one problem. It ends."
-Secret Eclectic
"This is art. This is epic."
–giveitaspin
"Hauntingly beautiful"
–Music Crowns
"Outstanding… It really is like nothing I've heard before."
-York Calling
"Incredible"
-Roadie Music
"Intoxicating… joyous."
-Central Sauce
Description:  
A pandemic couched in global political unrest. Does that better describe the events of 1918-19 or 2020-21? Bluebloods' 'Postcard' music video is set against an historically ambiguous backdrop that could just as easily represent either century. But at its heart it's a love story. It revolves around isolated Flin Flon miner, Louise, as she pens a letter to her Winnipeg-based partner, Abe, while the world around them unravels. Postcard explores parallels between the crises of today and yesteryear, and how Manitobans living in communities like Flin Flon and Winnipeg have experienced them. It's also a dreamy love song about the fantasies and yearnings of people trying desperately to stay together — even while history and fate conspire to keep them apart, perhaps forever.
Postcard from a Quarantined Miner in Flin Flon features the work of animator Ben Clarkson, performers Courtney Devon and Avis Penner, designer Damon Hayes Couture, cinematographer Jen Doersken, dancer Madi Dueck, lighting designer Cari Simpson, co-producer Sally Sweatman and others. We acknowledge the support of the Canada Council for the Arts and Manitoba Film and Music. This project is funded in part by FACTOR, the Government of Canada and Canada's private radio broadcasters. Ce projet est financé en partie par FACTOR, le gouvernement du Canada et les radiodiffuseurs privés du Canada.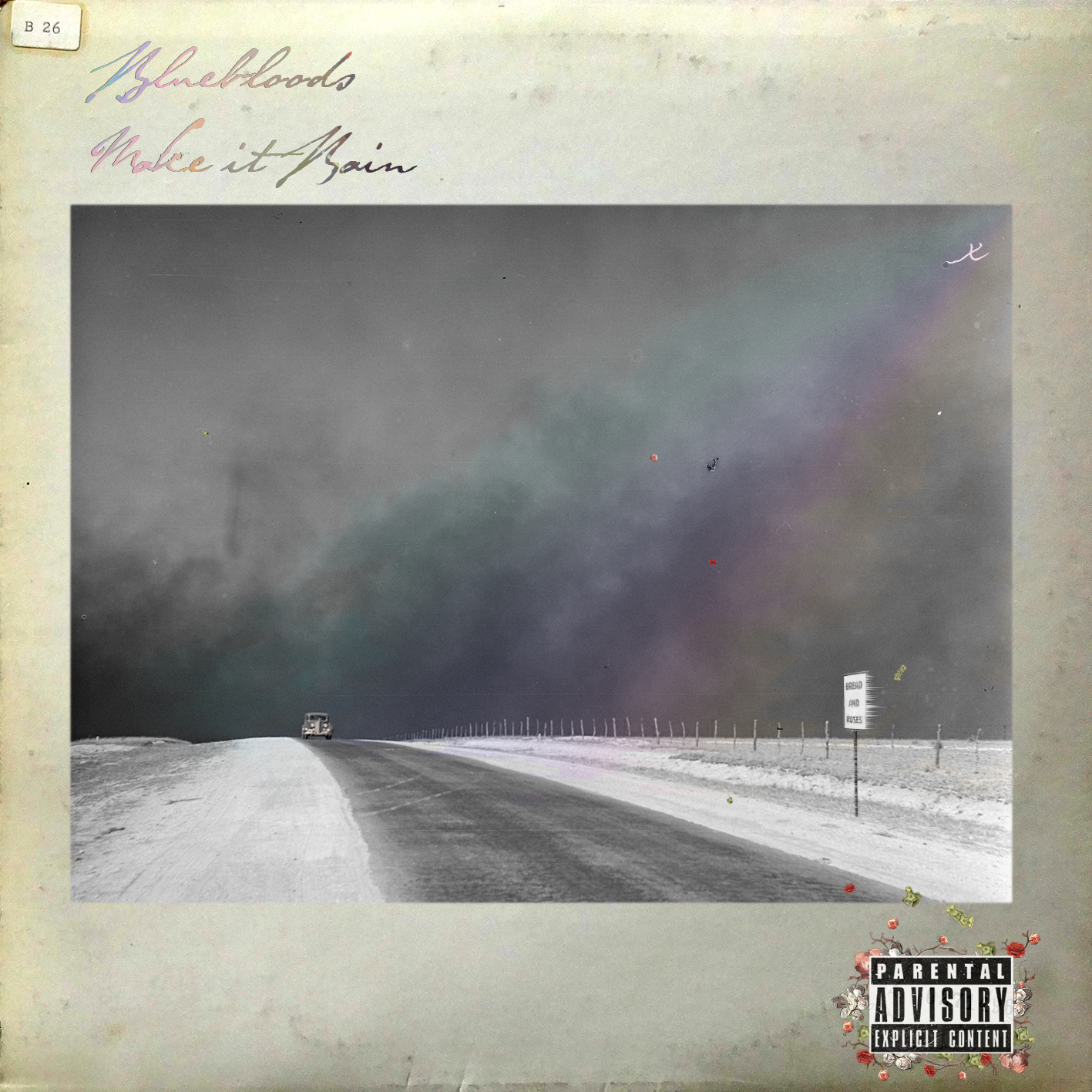 Make It Rain (EP)
Released November 2019. Available here on all streaming platforms. 
"★★★★… a profound statement of intent from an emerging artist whose work will soon be sought after"—Winnipeg Free Press
"… one of the most, if not the most, ambitiously creative pieces of art to ambush the ears of [Winnipeg]"— Stylus Magazine

"We haven't been able to stop listening… We would love to hear more from Bluebloods" 
–York Calling 
"Beautiful and impeccably crafted… damn near witchcraft!"
–Cups N Cakes Network
Bluebloods' debut EP Make It Rain, released November 2019, is a strikingly original and infectious work. Seamlessly blending classical, Jai Paul-inspired R&B, and EDM over five songs, "it tilts towards a new territory of sound-making" (Give It A Spin). No, VICE and Pitchfork have not yet noticed, but from Winnipeg to the UK and Greece, indie bloggers agree: this is a singular little record.
Listeners habituated to Winnipeg's excellent export of crunchy punks and folkies may be lead to conclude, "We're not in Manitoba anymore." Yet this is very much a prairie record. Led by producer, guitarist, and songwriter Conrad Sweatman, Bluebloods' line-up of guest singers reads like a who's who of the Manitoba indie scene, including Courtney Devon (Amadians), as well as Heather Thomas (ATLAAS), and Roman Clarke, and Elessar Thiessen. The Make It Rain EP deals largely with the 'fly-over country' that extends roughly from Michigan to Saskatchewan: clandestine dances in Mennonite Manitoba, Dust Bowl and dominatrixes, and the post-industrialization of Detroit. It recalls the 'old, weird' prairies of yore. But this is also a restless record that aims to push the prairie's culture in new directions – one attune to the political disgraces of Manitoba's past and present, and open to the cutting edge sounds of Tokyo and London. So enough with our grandiloquence, start listening.
For more information about release dates and interviews, or for press interested in hearing the album in full before the EP release, please contact:
consweatman@gmail.com.
Stream album now
Hi-res album art
A massive thank you, of course, to all the gifted musicians and artists who contributed directly to shaping the Make It Rain EP: Roman Clarke (vocals), Courtney Fox (vocals), Elessar Thiessen (vocals), Matthew Lindholm (vocals), Michael Perry (vocals), Heather Thomas (vocals), Jennifer Doerksen (photography), Jon Snidal (web design), and Riley Hill (audio engineering). Thank you to Margie Sweatman and Glenn Buhr for their lessons and friendship, and to my mom Sally Sweatman for her years of wise and peculiar advice. Hats off to John Elwood for hooking me up with those Neil tickets; they say never meet your heroes, but perhaps that's because it can be just as much fun to meet their brother. Finally, a warm thank you to Kina, one of the greats, who in so many ways inspired me throughout this project.